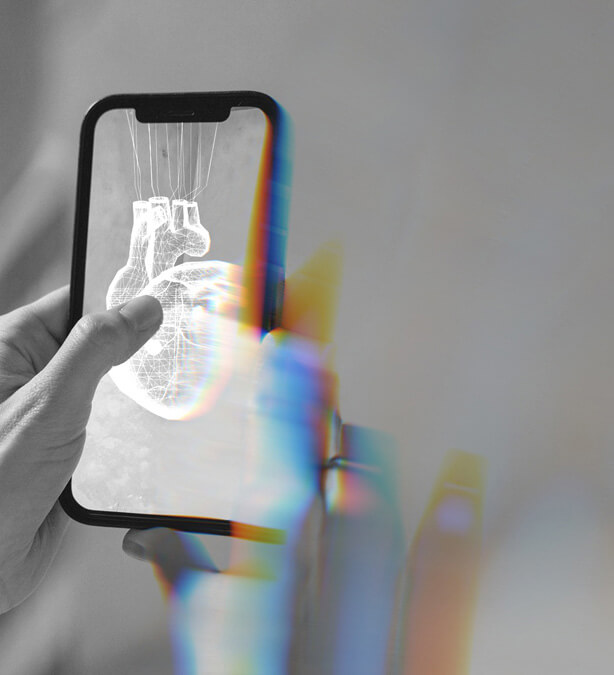 Augmented
reality
WE EXTEND REALITIES
Ever since the term "metaverse" has been on everyone's lips, it should be clear that augmented reality technology will have a lasting impact on our everyday lives. It affects the way we communicate with each other, access information, consume media, play games, educate ourselves or get in touch with brands, products, and companies – All these activities will change significantly through AR.
We are following this trend by using our expertise as an AR studio to produce innovative augmented reality content for our clients and their target audiences.
JUNGE RÖMER – THE AGENCY FOR:
Interactive AR apps and experiences
AR content for engagement marketing
AR filters for Instagram, Facebook, etc.
AR content for:

Smartphones and tablets (iOS and Android)

Existing and upcoming AR headsets (Quest Pro, etc.)

Web AR applications(for web browsers)
Arrange a consultation now
CONTACT US
SEE CASES

AUGMENTED REALITY STORYTELLING
The ability to place virtual objects, characters, buildings, and items in a real-world setting allows an entirely new kind of experience. AR fulfills the dreams of filmmakers, game designers, and marketing experts, who are now finally able to merge their content with the personal environments of their target audience. However, the full potential of the technology can only be exploited with the perfect story at the right time.
AR opens up several new ways to entertain and enchant the audience. But there is also a multitude of other applications beyond pure entertainment: AR can be used, for instance, to transform the personal living space of the target group into a personalized showroom – the perfect place to present and subsequently sell products of all kinds. The ultimate sales and educational tools can be developed on the foundation of AR.
SEE CASES
AR-FILTERS FOR INSTAGRAM & CO
Augmented reality effects and filters for social media have become an essential marketing tool. We design unique filters and effects for brands and ensure traceable and measurable success. Our experienced developers are certified by Spark AR. This allows us to implement filters quickly and also keeps the clearance processes short. On request, we also produce AR filters for Snapchat (Lens Studio).
SEE CASES
WEB AR: AUGMENTED REALITY FOR THE WEB BROWSER
Web AR technology enables us to embed AR content directly into websites. The user is no longer required to install an app on his/her smartphone in order to bring augmented experiences into the living room. Just click on a link or type a short URL into your web browser – and you're all set.
We live in a time, when people grow more and more reluctant to leave the house and visit physical stores, so shopping happens mostly at home / in online stores. Unfortunately, an important part of the shopping experience gets lost in the process: customers no longer interact with the physical products, they don`t get to try, feel, and really experience the objects of their desire. The good news: By using Web AR, we can deliver an online shopping experience to customers of any store/service imaginable, that is just as (or sometimes even more) exciting, emotional, and in-depth as a visit to a real-life store. And it works – online stores, that offer interactive 3D models of their products, that can be experienced anytime and anywhere, lead to rising sales figures.
SEE CASES