OVERCOMING DISTANCES WITH VIRTUALIZATION
Distance learning has been on everyone's lips since the pandemic changed our lives. One often forgets that actual work in a laboratory, especially in everyday student life, is of essential importance to learning processes. And who has a fully equipped laboratory at home?
The veterinary faculty of the LMU Munich considered this from the start and commissioned us to develop a virtual laboratory. It is now possible for students to log into the website of our virtual laboratory via laptop or tablet in order to gain the lab experience necessary for their studies – directly in the web browser.
A FULLY FEATURED LABORATORY
In our virtual laboratory, the students can carry out various experiments in a way that is guaranteed to be fun and extremely close to "real life". While the controls are kept very simple, they still offer endless possibilities: The users can look around freely in the 3D laboratory setting, take and manipulate all relevant objects that play a role in everyday laboratory life, combine them with each other and apply them to other objects in the environment.
Anyone who has played classic graphic adventure games such as "Monkey Island" in the past will quickly feel at home in our virtual laboratory. But of course our application is much more than "just" a game. We offer our users realistic scenarios and test arrangements. It is entirely possible to make mistakes in the virtual lab that could also happen in the real world. Success or failure – the application provides the students with constant feedback and context. The result: sustainable learning success.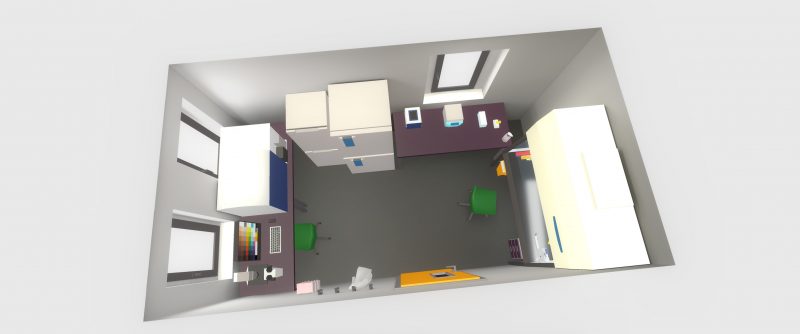 OUR FLEXIBLE "INTERACTION ENGINE"
The technology we developed and used in the development of the virtual laboratory is extremely flexible and easily expandable. For example, it is quite easily possible to design new experiments for the laboratory setting or to add new objects or environments at any time.
This type of experience does not have to be limited to a laboratory environment or to distance learning. Almost every interactive real-life process can be "virtualized" with our "Interaction Engine" and brought to the web-browser. There are no limits to the imagination. Contact us if you are thinking of transferring complex processes from real-life into the virtual world. We will find the best solution for your project.
CONTACT US